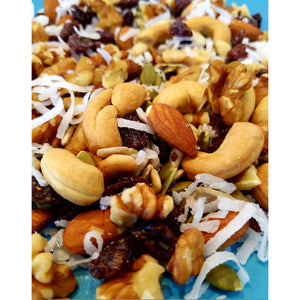 Paleo/Grain Free Granola
Sale price Price $7.99 Regular price
We've crafted our crunchy-baked granola to naturally fit many specialty diets, including Gluten-Free, Paleo and Keto. Finally, a snack that tastes amazing and nourishes your body and mind with essential nutrients!
▪︎Almonds
▪︎Cashews
▪︎Pumpkin Seed
▪︎Walnuts
▪︎Unsweetened Coconut Flakes
▪︎Sunflower Seeds
▪︎Raisins
▪︎Organic Molasses
▪︎Coconut Oil
▪︎Pure Vanilla Extract
▪︎Spices
▪︎Himalayan Pink Sea salt.